It was the moment we'd been building towards for months – last night, a group of young sick children were thrilled when they had the opportunity to play a slew of new video-games.
It was the Ronald McDonald House of Long Island's "Lights of Love" holiday party, and Nick's Marathon came in with an awful lot of gifts. Over $5,000 worth of video-games, systems, and accessories. A PlayStation 4. An Xbox One. A WiiU. 3DS's, Vitas. Mario, Zelda, Madden, FIFA, Skyalnder, Disney Infinity, Pokemon, and many more – there was a lot to be excited about. And as you can see from these pictures, the kids definitely seemed to be enjoying themselves!
It was a great sight to behold. One young boy, who had apparently been wandering around the House bored over the past few days, was fully engrossed in a game of Lego Marvel Super Heroes on Xbox One, a game he had desperately been wanting to play. Another group of boys waited excitedly for a system update to complete, counting as the bar creeped towards being 100% completed, so that they could play Super Mario 3D World. One young girl who was staying at the House couldn't wait to get her hands on a 3DS. And the PS4 game The PlayRoom was massively popular with the kids.
What made it all even more special was that it really felt like our favorite gamer was right there with us. Because there, hanging on the wall, was a plaque bearing his name.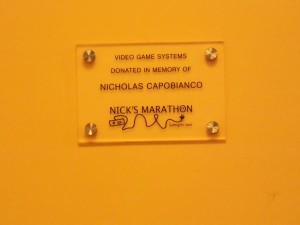 Since we started Nick's Marathon in 2008, everything we've done has been in the memory of Nicholas Capobianco. But now, here, for the first time, there's something tangible and real with his name right on it. It's made us all feel very proud, and extremely grateful to everyone who helped us make it happen.