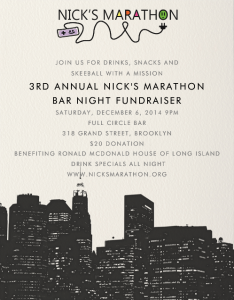 This December 6th, we will be having our Third Annual Nick's Marathon Bar Night, and all of our fans and supporters are invited!
We'll be meeting up at Full Circle Bar in Brooklyn, and a $20 donation will get you drink specials all night. But that's not all: there will also be SKEEBALL! That's right, you can eat, drink, and play skeeball, all while helping to raise money for a great cause.
How freakin' cool is that?
We hope to see you all there!
DETAILS:
What: Nick's Marathon Bar Night
Where: Full Circle Bar, 318 Grand Street, Williamsburg Brooklyn (directions)
When: Saturday December 6th, 9pm – ?
$20 donation entitles you to drink specials all night
All proceeds go to Nick's Marathon