Nick's Marathon 2017 Will Take Place On…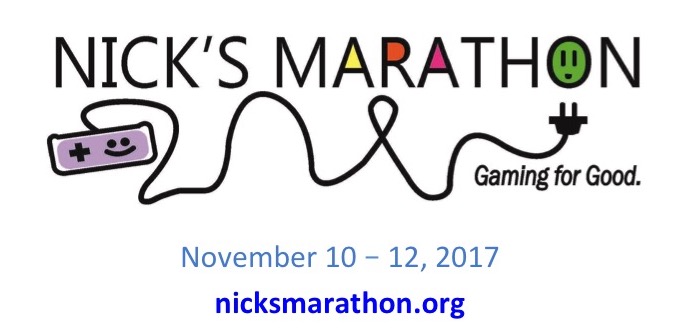 Here we go again!
We have officially set the date of the next Nick's Marathon: we will kick things off on Friday, November 10, 2017 at 8pm, and continue through 8pm on Sunday, November 12th.
As always, we will spend those 48 hours playing a variety of video games, all live-streamed on nicksmarathon.org. Visitors to the site are encouraged to watch us, chat with us, and donate to our cause.
This year, we are continuing to raise money to buy video games and handheld systems for the Ronald McDonald House of Long Island. RMH-LI is expanding, and the games we give to their locations serve as a welcome and much-needed distraction for families going through incredibly difficult times.
If you don't want to wait until November 10, you can certainly make a tax-deductible donation right now.
What will we be playing at Nick's Marathon 2017? We'll mix it up with older and new games, but expect to see some 16-bit favorites courtesy of the SNES Classic Edition, and the newest Mario title, Super Mario Odyssey.
We'll have more announcements about this year's Marathon soon, so stay tuned!