As you may already know, one of the main focuses of our fundraising efforts is to support the Ronald McDonald House of Long Island. Why? Because when Nick was just seven years old, he participated in the ribbon cutting ceremony there when the House first opened its doors. Now, their playroom bears a plaque with his name.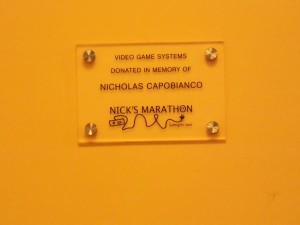 The systems, controllers, accessories, and games were donated to RMHLI by Nick's Marathon in 2013. In the years since, we have continued to make sure that the House has the very latest games. New controllers. The most recent Skylanders, Disney Infinity, and amiibo figures. We believe that any children who stay at the Ronald McDonald House shouldn't just have any old video games; they should have access to the newest releases, the must-haves, the games that they really want.
This year, we will be especially focused on buying the Ronald McDonald House new handheld systems, namely those in the Nintendo 3DS family.
We've talked to people who work at the House, and we've heard that many children really enjoy having the portable systems. Sometimes it's because they have compromised immune systems, and they can't play in a large room with other kids, so they need something they can play alone. Other children don't necessarily have to be alone, they just prefer some peace and quiet. Other kids have to go to the hospital for long, boring stretches, and having access to a 3DS can make the time go much faster.
We've already donated many handhelds to the House over the years, but after hearing just how important they are to the children who stay there, we have decided that this year, a bulk of our proceeds will go towards buying new handhelds and games. We never want a child at the House to be hoping to play a game like Super Mario 3D Land or Animal Crossing or Pokémon Sun/Moon and not be able to because other kids are using the only other handhelds.
In order to make that happen, we need your help. Make a tax-deductible donation today, and help us give the children staying at Ronald McDonald House access to the portable game systems that make them smile when they need it the most.