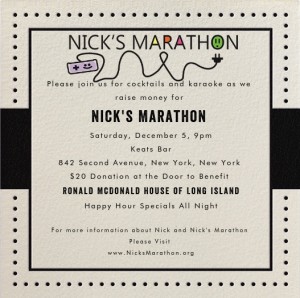 We are just two weeks away from the kick-off of Nick's Marathon, but we've got even more fun stuff planned! On Saturday, December 5th, join us at Keats Bar in New York City for a night of fun, fundraising, and KARAOKE!
(And be warned, many of us like to sing. Badly. Loudly. Repeatedly.)
Come and join us, and your $20 donation at the door goes directly to honoring the memory of a great friend and brightening the lives of sick children. There will be drink specials, good times, and lots of 80's songs.
(Did we mention the karaoke?)
Hope to see you there!